About The Custom Fabrication Process
Each Orthotic is custom fabricated and designed for each patients requirements. A variety of interfaces, plastics, and joints are necessary to provide functional orthotics for a variety of sizes and needs. A the process starts with the initial evaluation with a Veterinarian or Rehabilitation Specialist. A fiberglass cast produces a negative model of the body part requiring the device. The fiberglass cast is used to produce a positive plaster model. The plaster cast is modified and cleaned for the heat forming process of the plastic and soft interface. Any joints required are molded into the orthotic. The orthotic is trimmed and polished. Straps are added and the soft interface are attached.
Casting
| | | |
| --- | --- | --- |
| | A fiberglass cast is taken over stockinette. A variety of sizes of stockinette and fiberglass tape are available depending on the size of the limb or body part. | The fiberglass cast is removed after becoming firm and holding the shape of the limb. The fiberglass cast produces a negative model used to produce a plaster model. |
Plaster Cast and Modifications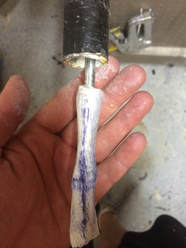 A plaster cast is produced from the negative fiberglass mold.
​Potential pressure points are relieved on the cast.
​The cast is sanded and smooth.
​

Soft Foam Interface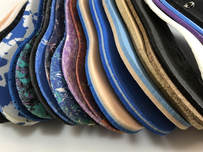 Normally a soft interface is used between the plastic and the pet. A variety of materials and thicknesses are used to provide a optimal fit and function. A lack of a interface can cause potential pressure points and sores. Caution must be used to not use excessive amount of soft interface materials as it can compromise suspension and add unnecessary weight and bulk.
P-Cell

P-cell is a closed cell EVA foam.
​Heat moldable
​Used as a top cover, weight bearing orthotic interface, and distal end pads. High moisture deflection that does not allow moisture to soak in.

Plastazote

Plastazote is a closed cell polyethylene foam.
​Heat moldable
​Used to help redistribute pressure away from a sore spot or bony prominence.
​Available in four densities: Medium, Firm, X-firm, and Rigid.

Microcell Puff

Microcell Puff is a EVA foam.
Heat Moldable with excellent shape retention.
Used as a shock absorber. Varity of applications and uses.
​Available in four different densities: 35 shore, 45 shore, 55 shore, to a firm 65 shore.

Neolon

​Neolon is a new and improved firmer neoprene. Combined with a top cover of Silpure as an advanced anti-microbial protection with properties of silver. Silpure eliminates odors by controlling bacteria that causes the problem.

​Used for more active patients.

Available in two different thicknesses: 1/16" or 1/8"
Plastic
The plastic provides the structure support and control of the orthotic. Each type of plastic has unique characteristics and properties for each application. An orthotic requiring rigid support would use a polypropylene plastic. An orthotic requiring some flexibility would be fabricated using a copolymer polypropylene plastic.
Polypropylene

Rigid
​Impact Resistant
​Fatigue and Chemical Resistant
​No moisture Absorption

Copolymer Polypropylene

Rigid yet flexible,
Good Formability

High Density Polyethylene (HDPE)

High Durability and Strength
Resists cracks
​Lightweight

Low Density Polyethylene (LDPE)

Softest and most flexible
​Softer feel for comfort
Plastic Design Options
A special design can be applied to the plastic. The design is heated transferred into the plastic during the vacuum forming process. See

Design options

for available options.
Joints
A joint provides articulation and movement on the orthotic. The joint can be free motion, with no restrictions on the amount of movement at the joint site. A limited amount of movement or controlled range of motion can be achieved through a particular joint, straps, bumper stops, or a combination.